Download from DropBox:
Windows: https://www.dropbox.com/s/2dtz6z8lsvvd84d/HotShots-Win.7z?dl=0
Mac: https://www.dropbox.com/s/v7rx8fx96buv6dz/HotShots-Mac.7z?dl=0
Linux: https://www.dropbox.com/s/2q3h9h5euichb7d/HotShots-Linux.7z?dl=0
For more frequent updates and info, check out Hot Shots Discord server: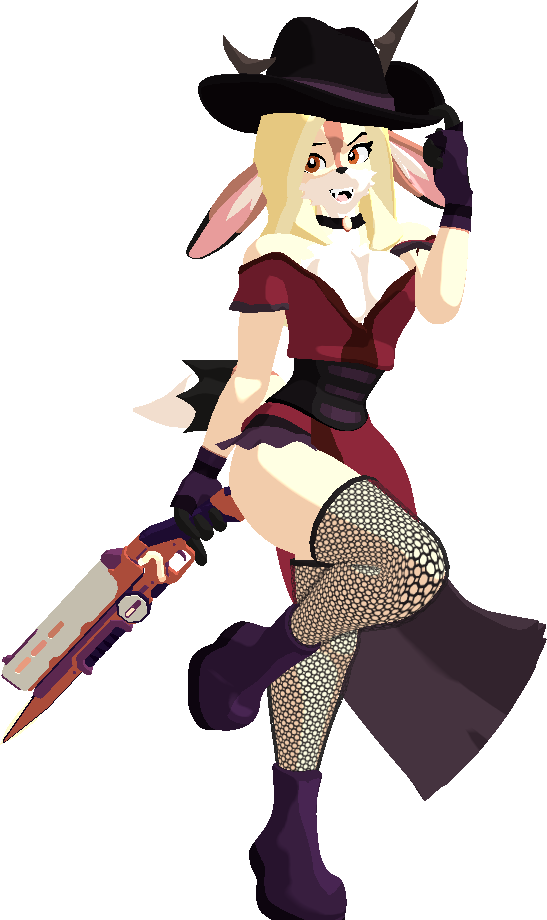 Name: Freedom Evergreen
ModBod: Jackalope
Power: Heart
Arsenal: Maser Magnum & Fencing Bayonet
Hobbies: Singing, Trick Shooting, Westerns
Fav Food: Bierocks & Grebble
Fav Beverage: Whiskey
Fav Music: Cyber Country
Hometown: Dodge City, USA
Weight: "Please! The only way I'd ever get on a scale is feet first!"
Background:
Freedom Evergreen grew up in historic Dodge City, surrounded by monuments to America's idyllic Wild West. As a young girl, she ran away from home to join a Rodeo Circus. Freedom was a crack shot and fantastic singer, and before long, she had become one of the Circus' main attractions. The Rodeo Circus had always been close to objectionable, but when an unscrupulous corporate overlord bought out the management, the shows became much darker. The same crowds that cheered for young Freedom's songs and trick shots now hooted at the grown woman's burlesque acts and wanted to see her injured in robotic bull fights. When Freedom tried to quit the Circus, the corporate overlord sent goons to capture her, but quick thinking and sharp shooting allowed her to escape. Now, she flees her pursuers all the way to the end of the Earth, Advent Frontier, to see if her shooting skills can earn her a new living on her own terms...
Security Footage: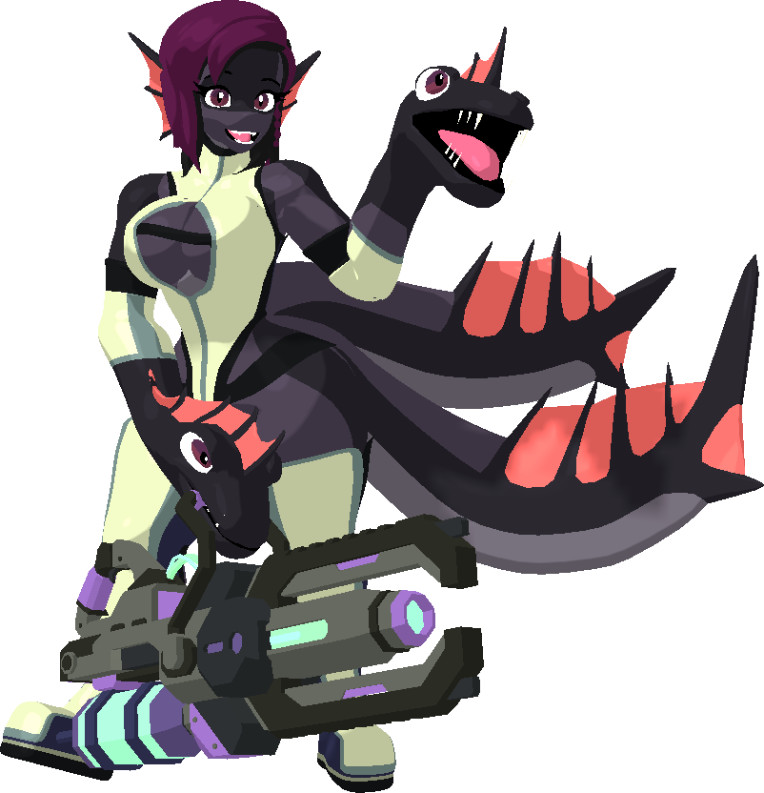 Name: Murky Lagoon
ModBod: Hydra
Power: Venom/Radiation
Arsenal: Chem-Chucker
Hobbies: Mud Bathing, Taste-testing
Fav Food: Catfish Gumbo
Fav Beverage: Limeade
Fav Music: Alkaline Jazz
Hometown: New Orleans, USA
Weight: "Perfectly healthy"
Background:
Murky was originally trained as a chemist, and worked on a variety of projects, such as super plastics, gene-hacking, munitions and food science. During the Second Civil War, her home state seceded, but Murky and most of New Orleans remained loyal to the Union. Murky decided to use her chemical skills to serve her country as a secret freedom fighter, sabotaging Neo-Confederate infrastructure, smuggling refugees out of the warzone and synthesizing supplies for Union loyalists. Through it all, Murky dreamed of the day she could stop fighting and work to rebuild her unique city, but after a decade of violence and secrecy, she can't let go. She can't bring herself to trust the people around her, she can't help but calculate how much explosive compound it would take to blow up the shop around the corner, she can't help but imagine Confederate agents closing in on her. The bright smile that hid a secret agent now hides a tortured soul. Now, Murky Lagoon wanders the world to find the life she left behind, and finds herself at the end world, Advent Frontier.
Security Footage: